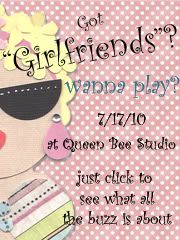 Queen Bee Studio
Deb from Queen Bee Studio posted a funny challenge, which I'm participating in today. Her challenge was to create paper images of our girlfriends! I'm extremely blessed to have many wonderful friends, and I wish that I would have had the time to make an image to represent all of them, but with work and family responsibilities there's only a limited number of hours in my day left over for crafting! With that said, since I wanted to take part in Deb's challenge, I decided to make images of my sisters-in-law, Sandy and Lea Ann, for the girlfriends challenge. (I also made an image of me, since the three of us have so much fun when we get together!)
Here's our images, left to right, Sandy, Lea Ann and me:
Here are actual photos of us:
Sandy and Me
Lea Ann and Me
Sandy and Lea Ann are two of the sweetest and most remarkable ladies that I know, and I consider myself SO FORTUNATE to call them my sisters! The best thing about my sisters-in-law also being two of my closest friends, is that I know they've always got my back and that I can go to them for sound, honest advice at any time! (Yes, they're the ones who will honestly tell me if an outfit makes my rear-end look big!!! Hee! Hee!) I credit Sandy and Lea Ann with helping to shape, (or beat into submission - HA!), their baby brother - my sweet hubby, Mike - into the kind and considerate man that he grew up to be. On a funny note, my father-in-law, (Sandy and Lea Ann's dad), has nicknamed us his "Three Mothers", because we're always checking up on him! That's what good daughters/mothers do, isn't it?!?!?
I had actually planned on posting a paper image of my hubby, Mike, (because he's my very best friend of all!), but I got busy and didn't get his image finished. I'll finish it soon and post it at a later time...possibly on a scrapbook page along my image to commemmorate our 23rd wedding anniversary, which is today!
Have a fun and safe weekend and be sure to click on Deb's "Girlfriends" link at the top of this post to check out her awesome artwork!